© 04-21 Colin Melbourne
Catholic Mass Pollutes Body Soul & Spirit
The Roman Catholic Mass is an abomination, blasphemy against the Blood, Body, and finished work of Christ: Idolatry of the worst kind. It is an idol based on Baal worship, detestable to God, and has no Scriptural basis, as was made perfectly clear in John Knox's historic denunciation, Why the Mass is Idolatry.
People who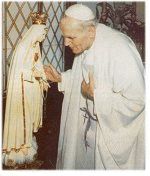 participate in idolatry are idolaters and will not enter Heaven. The LORD Jesus Christ warned emphatically that all idolaters are barred from Heaven, and cast into Hell. (See Rev. 21:6-8, and 22:13-16)
Idol worship is denial of Christ, resulting in spiritual damnation.
Mass Death
Scientists have now discovered idol worshippers are also damaging their physical health.

It is free to Join and Login to read more. If you have already registered and joined, please login below. New visitors can also join below.