© 03-21 Colin Melbourne
With testimony of Duncan Campbell
Two praying women moved God to visit the Isle of Lewis, turning their community, and the Scottish Hebrides, from sin to Christ. You and God can do that where you live, if you are willing to repent and believe.
Introduction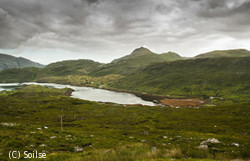 Duncan Campbell was preaching his heart out, and getting nowhere. The congregation were quite content in their stiff, cold, and dead, religious routines.
What could he do?
He noticed a young lad near the front, weeping quietly, only recently saved and baptised in the Holy Spirit, a pool of tears around his farmer's boots. Campbell, in humility, recognized that the youth was closer to God than he was, so stopped preaching, and asked him to stand and pray.
Just three sentences of prayer from the new believer prompted the power of God to fall upon the whole assembly.
It is free to Join and Login to read more. If you have already registered and joined, please login below. New visitors can also join below.