© 10-22 Colin Melbourne
Have scientists finally created life?
Q: The news media are saying that scientists have created synthetic life for the first time. Is it true?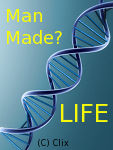 A: You refer to the work published in the May 2010 Science journal by the J. Craig Venter Institute entitled, Creation of a Bacterial Cell Controlled by a Chemically Synthesised Genome, Gibson et al.
I have carefully studied the original scientific paper in full.

It is free to Join and Login to read more. If you have already registered and joined, please login below. New visitors can also join below.